spending an afternoon at MOMA
with Willem de Kooning ...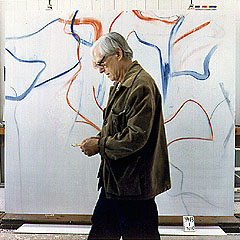 "I don't paint to live, I live to paint."
Willem de Kooning's painting at
the apartment of psychiatrist and socialite
Samantha Boardman
.
"I make pictures and someone comes in and calls it art."
"Style is a fraud. I always felt the Greeks were hiding behind their columns."
"Whatever an artist's personal feelings are, as soon as an artist fills a certain area on the canvas or circumscribes it, he becomes historical. He acts from or upon other artists."
You might also like
Guggenheim Museum
Lakewood House
Slat Chair